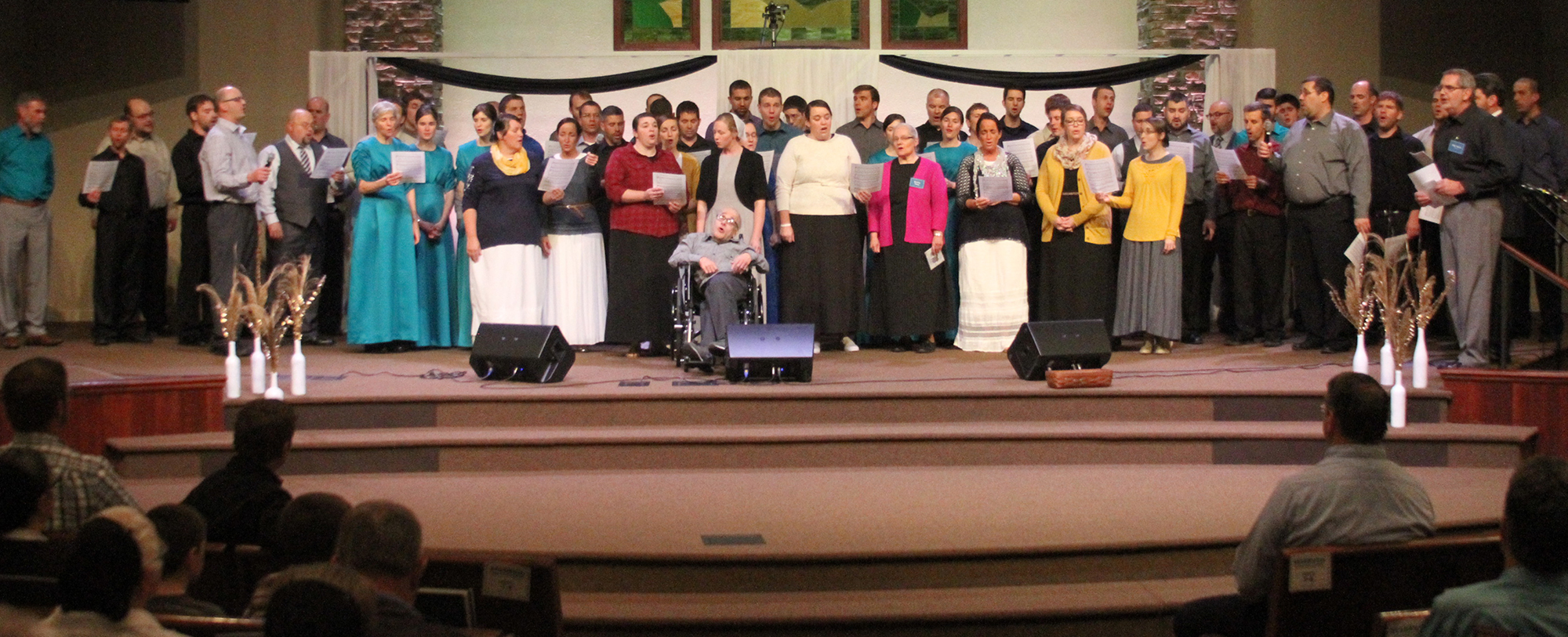 If you've come to the website for the link for the Live Streaming, please note at the top of the page there is a tab named "Live Stream." Click on the tab, scroll down a bit, hit play, & enjoy!
Please note that this schedule is subject to change.
FRIDAY
4:45 Prayer & Announcements
5:00 Garment of Praise
5:20 Chords of Praise
5:40 Delagrange Family
6:00 Cross Walk Quartet
6:20 One By Grace
6:40 Neuenschwander Family
7:00 Harmony Quartet
7:20 Followers Quartet
7:40 Alive Quartet
8:00 4 The King
8:20 Harmony 3
8:40 Cross Walk Quartet
9:00 New Heights Quartet
9:20 A Cappella Harmony Quartet
9:40 Neuenschwander Family
SATURDAY
10:45 Prayer & Announcements
11:00 Alive Quartet
11:20 Followers Quartet
11:40 4 The King
12:00 Chords of Praise
12:20 A Cappella Harmony Quartet
12:40 Garment of Praise
1:00 New Heights Quartet
1:20 Delagrange Family
1:40 One By Grace
2:00 Harmony Quartet
2:20 New Heights Quartet
2:40 Alive Quintet
3:00 A Cappella Harmony Quartet
3:20 Followers Quartet
3:40 Neuenschwander Family
4:00 Cross Walk Quartet
4:20 4 The King
4:40 Harmony Quartet
5:00 One By Grace
5:20 Chords of Praise
5:40 Harmony 3
6:00 Delagrange Family
6:20 Garment of Praise
6:40 Homecoming Setup
7:00 Homecoming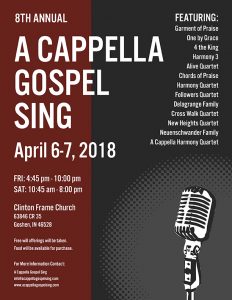 On our poster you will see the start times for both days listed. The scheduled is being formulated and, after being reviewed by the groups, will be posted in a few weeks. There is Reserved Seating available if you're interested in that. Send us at email at info@acappellagospelsing.com if you'd like to purchase one! We look forward to seeing many of you in a few weeks!